Residential and commercial junk clean ups in North Pittsburgh, PA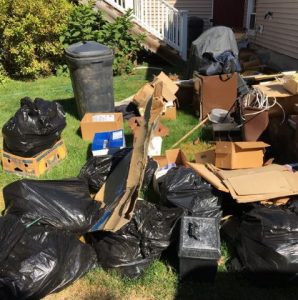 There are any number of reasons why you may need help cleaning out a property. When that time comes, you will want assistance from a company that is experienced, dependable, and affordable.
That's where we come in. Our junk removal professionals are fully licensed, insured, and skilled in cleanouts of homes, apartments, offices, and other spaces.
You can rent a truck, beg friends and family for help, strain your back, and have an otherwise frustrating experience trying to do the job on your own. Or you can rely on our strong team, manpower, modern equipment, and durable trucks for hauling.
Our estimates are always free and honest. Contact North Pittsburgh Junk Removal today to get your quote or to schedule an appointment with our property cleanout team near you in north Pittsburgh, PA.
Full Service Removal & Hauling Pros
When it comes to property cleanouts, we can lend a hand in many ways. Let's just say that you have options.
We remove everything you tell us to from every room in your home or office space — and even yards. This is full-service junk removal at its finest. You sit back and relax while we do the heavy lifting and hauling
Only need a basement and attic clean up. Not a problem. We also can help you with removing trash, garbage and other items from garages, bedrooms, kitchens, living areas, and yards.
We are true pros at hauling all types of furniture, refrigerators, stoves, ovens, dishwashers, washing machines, dryers, and all home appliances. We also ably remove hot tubs, old television sets, pool tables, pianos, and safes.
Suffering the loss of a loved one can be a stressful time. We help alleviate some of that by working with you to efficiently move away items of your choice and donate them to a local non-profit or take to the dump. 
If you're left with a mess at an abandoned or foreclosed property, have no fear. We sort through it all, remove it, recycle it and donate it per your instructions.
Some folks like collecting and piling up items of all kinds. When it gets out of control, we're available to banish the junk so you can reclaim your property.
Forgotten storage units can make for a real headache. We take the time to organize its contents and remove everything you don't want.
We're located in the heart of North Pittsburgh, Pennsylvania and we travel throughout the region to assist customers with junk, garbage and trash removal. Our service area includes:
Pittsburgh
McCandless
Shaler Township
Sharpsburg
Ross Township
Gibsonia
New Kensington
Allison Park
Wexford
Mars
Butler
Glenshaw
Fox Chapel
O'Hara Township
Hampton Township
West View
Reserve Township
Millvale
Tarentum
Oakmont
Penn Hills
Etna
Aspinwall
Verona
North Oakland
Shadyside
Undercliff
Blawnox
Bakerstown
Dorseyville
Indianola
Harwick
Lower Burrell
Cranberry Township
5 Good Reasons To Choose us For Your Job
We know you have many junk removal companies to choose from in the Pittsburgh area when you need help with a home or office cleanout. A few of our competitors in the region even have solid reviews on Google, Facebook, Angie's List, Yelp and the like.
We thank you for considering us. Please choose us for the following reasons:
We're affordable. Our low-cost rates keep money in your pockets.
Our pricing is transparent. What you quote is what you pay, and we'll never hit you with hidden fees.
We stay in touch. We communicate with you throughout the process through phone calls, texts and emails.
We're professional. We respect your property, time, and needs, and work to fulfill them.
We're prompt. We stay on task and never fool around on the job.
Get in touch for a free quote!
Want to learn more about what we can do for you? Please call us today for no-cost estimate and fast service.